Dirty Little Secret
is a weekly meme hosted by us at
Under the Covers
. Every Thursday we get to know other bloggers and our readers more intimately by asking them a question hoping to reveal their dirty little secrets. We hope that you will all join us!
This Week's Question:

"What is your take on anthologies? Love them? Hate them? And what is the last anthology you've read and enjoyed?"


I personally enjoy them the reason being is you can read a selection of different stories in a short time and fall in love with a bunch of different characters. But they do tend to be quick reads when your looking for one the only downfall I have sometimes is I want more from stories when they finish quicky .
My last anthology I read was
The Poison Eaters: And Other Stories by: Holly Black she's an amazing writer her stories are dark creepy & so intoxicating I love them .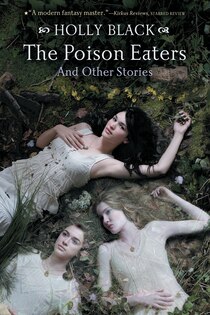 *Lisa
Poisonous girls whose kisses will kill. A fateful eating contest with the devil. Faeries who return to Ironside, searching for love. A junior prom turned bacchanalia. In twelve short stories, eerie and brimming with suspense and unexpected humor, Holly Black twists the fantastical creatures you thought you knew in ways you'll never expect